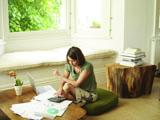 October is not only Investor Education Month, it is also Women's History Month. This got me to thinking about women and investing.
Women are often perceived as less savvy investors.  Maybe it goes back to the old myth that girls can't do math? This view has always frustrated me. But then I am a woman working in finance, who is rather quite good at math, a skill I inherited from my mother who used to earn 100% on her university calculus exams! (I am not THAT good at math, but she is.)
The whole women aren't good with money myth is a holdover from the days when we weren't even allowed to have our own money. Women are just as good at managing finances as men, and it is starting to show. Many of the most well-known financial writers, teachers and leaders in Canada are female: Sherry Cooper, Executive Vice President and Chief Economist, BMO Financial Group; Gail Vaz-Oxlade, of TVs Till Debt do Us Part; Lesley Scorgie , author of Rich by 30 and Rich by 40; and Patricia Lovett-Reid, Senior Vice-President, TD Waterhouse (just to name a few).
TD Waterhouse recently released the results of its 10th annual Female Investor Poll, which showed that 61% of women in Atlantic Canada have savings and investments in their own name. 24% of married (or common-law) women have completely separate bank accounts from their partner and 43% have a joint account as well as separate accounts, showing increased financial independence.
Now, it is not all good news. Only two-in-ten women in Atlantic Canada (18%) have a financial plan, the lowest figure in Canada (vs. 29% nationally).  Infact, according to the CSA Investor Index 2009, only 25% of Nova Scotians, male or female, have a financial plan, so that is something we can all work on.
What is your story? Women: how comfortable are you managing your finances? Men: do the women in your household play a role in managing the finances?
Related posts:
Share & Bookmark This Story!