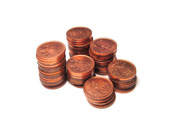 Is it really Friday again already? How does that keep happening?
I have lots of great posts and articles to refer you to, so take advantage of the Thanksgiving long weekend to read up on the latest in personal finance.
First on the list this week is the newly revamped InvestRight website from the British Columbia Securities Commission. Check out the whole website, and don't miss the Let's Talk About Investing blog, and their Hiring the right financial advisor is very important post.
In the Final installment of her investing series, Gail Vaz-Oxlade suggests 7 Steps to Successful Investing.
Mike Holman at Money Smarts reviews the book Pensionize Your Nest Egg.
Jim Yih discusses the non-financial aspects of retirement in Retirement Is About More Than Just Money at the Canadian Finance Blog.
Frugal Dad suggests Five Daily Activities to Improve Your Finances.
Simple Financial Lifestyle asks: What are your Personal Financial Ugly Ducklings?
You should also check out the New Brunswick Securities Commission's YouTube channel, and their new ad Knock Out Investment Fraud.
Thanks are due this week to the Canadian Finance Blog, who included our Saving vs. Investing post in their Friday Links, and welcome to new readers who found us this way.
Oh – and one more link for you, in honour of the Thanksgiving weekend. It's not specifically finance related, except that growing, harvesting and preserving your own food is a smart, frugal thing to do. Check out the new Adventures in Local Food blog, and their cranberry sauce cook-off.
Happy Thanksgiving.
Related posts:
Share & Bookmark This Story!