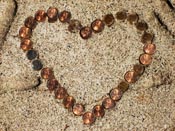 Couples argue about money more than almost anything else.  Money is a leading cause of relationship stress and is cited in up to 90% of marital breakdowns. Truth is, money is a necessity so you have to learn to deal with it. Don't let money issues spoil your romance.
To celebrate romance this Valentine's Day, we'd like to share tips on how to talk about money with your loved one, and to help you balance the romance with the reality.
1. Have the money conversation early and have it often. (My husband and I started having monthly "finance" meetings a few years back. It works wonders, and doesn't leave unanswered questions to fester into misunderstandings and arguments.) Communication is key to any relationship and especially so when it comes to money. Be up front about your good and bad financial habits and your current situation. Don't wait for a crisis – when someone has maxed out a credit card it is too late for an objective, unemotional discussion.

2. Married or living together? Stick to a household budget. As unromantic as it may seem, this can save endless arguments. Often it is one partner who is blamed for being the spender, but sometimes when you look closer you will see that you spend equally, only on different things. Set a basic household budget and discuss how much you're going to spend on groceries and necessities together. Then discuss how and when to pay for larger, one-time purchases like a new television, or an upcoming vacation.

Also, beware of springing an expensive surprise purchase on your partner, romantic or not. If you are sharing finances – they have to pay for it too! Don't be afraid to institute spending limits on birthday, Christmas or Valentine's Day gifts.

3. Make a plan. Work together to develop some shared financial goals. Working with a qualified and registered financial adviser can help you stay on track, but make sure you do your research and make decisions together.
4. Work as a team. Investing your money can help you reach your future goals, but it takes research and practice. It's a learning curve you'll need to take together, so celebrate your successes and work together through the challenges.
For more tips on managing your money as a couple, check out The Smart Cookies' Guide to Couples and Money, Smart Couples Finish Rich, Canadian Edition by David Bach, or Rich by Forty: A Young Couple's Guide to Building Net Worth by Leslie Scorgie.
Related posts:
You asked about: Money market mutual funds In the lead up to Investor Education Month, I asked...
How much money will you need to retire? This week is Financial Planning Week in Canada and National...
Would you recommend your financial adviser? It's been a bleak year on the markets, and that...
Share & Bookmark This Story!