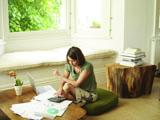 The new year is traditionally a time when everyone vows to make changes and start fresh. Often these changes are financial in nature – one of my resolutions is to pay off the last of my student loan incurred while earning my Investment Management diploma. It's a small but reasonable goal, but will make me feel much better about my finances. If I continue to pay it at the rate suggested by the bank, it'll take almost five years. I want it paid by the end of 2011.
Have you made financial resolutions? In case you don't know where to start, we have a few suggestions to share over the coming weeks. Today's resolution was inspired by a Globe and Mail article: It's easy to get a free credit report. Honest!
It's true. It is easy, it is free, and we highly recommend it.
Being familiar with your credit history is an important step in preventing fraud. If someone has access to your personal information, they could steal your identity and obtain credit in your name. Regularly monitoring your credit report can help you spot fraudulent accounts made in your name. Trust me – it happened to me many years ago. Thankfully, in my case, it was caught by the staff of my credit union who pulled my credit history when I was applying for a credit card. Removing the fraudulent account from my report was a long and frustrating process. Don't let it happen to you.
Aside from fraud, checking your credit history also protects you from human error. The first time I ever checked my credit report I was a recent university grad, wondering if I could qualify for a personal loan. I was shocked to discover my report listed not only my student loans – but my sister's as well. We have similar names, and similar social insurance numbers. Someone, somewhere decided we were the same person, and so I was on file with the crushing debt load of not one but two bachelor's degrees! Luckily this was an easier fix than the fraud case, and was fixed as soon as I provided her social insurance number (perhaps not so lucky if she'd been a stranger).
So the lesson here is the report is free and there is a process in place to fix errors, so long as you know they are there. So order your report – just remember, it can take time to fix and error or prove a fraud. Don't wait until you are denied a loan due to an error or fraud on your report – resolve to check your credit history now, and check regularly.
The contact info (taken from the Globe article) is as follows:
Equifax: 1-800-465-7166
TransUnion: 1-800-663-9980
Mail in forms:
Equifax credit report request form
TransUnion credit report request form
Related posts:
Share & Bookmark This Story!