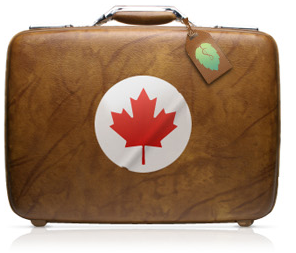 The #1 online personal finance service in America has now arrived in Canada. Yesterday, Mint.com announced its new Canadian version. The online service already offered access to some Canadian banks and accounts, but now has a new site catering to Canadian products and finance needs.
Mint.com has been named the best online personal finance tool by Money Magazine, PC Magazine, and is PC World's Editor's Choice. It is also a favourite of many of my favourite personal finance blogs (Canadian Finance Blog, Money Smarts, and Personal Finance Software Reviews), which is how I first heard of the service.
How does Mint.com work?
To use Mint.com, you register with your email address, and then add the log–in information for the online bank, credit union, debt and investment accounts you want to track. Mint.com's software automatically pulls together your account data, to provide up to date and accurate views of your finances. It also analyses this data, providing personalized money-saving and money-making suggestions.
Your account information is updated daily and Mint.com automatically categorizes all your purchases, showing you how much you spend on gas, groceries, parking, rent, restaurants, DVD rentals and more. You can sign up for alerts by email or text message on any unusual activity, low balances, fees and upcoming bills, keeping you constantly aware of your money.
As a budgeting tool, it doesn't get much better, really.
But, is it safe to use?
Though you register with an email address, Mint.com maintains that accounts are anonymous and that the site never knows your identity. Aaron Patzer, the founder and CEO of Mint.com is quoted in the National Post saying: "We take [data security] very seriously and hold to extremely high standards, which meet or exceed requirements. We reviewed all our processes with our privacy and security teams to ensure they were acceptable in Canada."
As with any service, read the fine print and the privacy policy and be sure you are comfortable before you sign up.
Note: Before You Invest and the writer of this post are in no way affiliated with Mint.com. I have tried out the software and consider it a great tool, but choose not to use it day-to-day because I do not do the majority of my banking online, thus it is of limited use to me.
Related posts:
Share & Bookmark This Story!