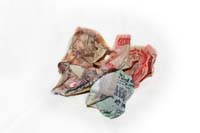 October 17 – 23 is Waste Reduction Week in Canada*. It's a week when consumers are challenged thorough a series of events to consider the environmental and social ramifications of wasteful practices. Waste reduction can be acheived by following the now famous 3-Rs: reduce, reuse and recycle.
Seeing as how Waste Reduction Week falls in the middle of Investor Education Month, I did some brainstorming and came up with my 3-Rs of safe investing: research, and registration and re-evaluation. Follow these 3-Rs to help ensure your hard earned money doesn't go to waste!
Research – Always, before you invest, do your research. What do we mean by this? Basically, you should never invest in anything you don't understand. We don't expect you all to be financial experts, but when it comes to your own portfolio, you should know (and be comfortable with) what is going on. Find out more about the companies you invest in. Your adviser can supply you with some information, but you can also check with the Better Business Bureau, in the news or online.
Be sure to understand the type of fees and commissions you are paying. Are there rules or restrictions involved in the kind of investment you are buying, or the account you are opening? Be sure you know how (or if!) you can access your money if you need it. Read the fine print, and ask your financial adviser, lawyer, accountant or other trusted adviser for clarification. Read How to do a background check to get yourself started. Still have questions? That's why we're here. Ask us!
Registration – Always, always check the registration of your financial adviser. You can find this information using the Canadian Securities Administrators' National Registration Search, and searching for a company or individual by name to find current and historical registration information.
Nova Scotia laws require investment advisers to be registered with the securities commission (with certain specific exceptions). The company an adviser works for must also be registered in Nova Scotia. This regulatory system helps to make sure that all registered dealers and advisers meet certain minimum standards. If your adviser is not registered, contact us to find out if they qualify for an exemption.
Re-evaluate – What may have been a good investment decision two, five or ten years ago might no longer be suitable. Think of how much your life can change in just a few years. Maybe you have young children to consider. You've been married, or your marriage has ended. Perhaps you are getting ready to retire. Whatever the changes in your life, they will change your financial needs. It is a good idea to sit down once a year with your financial adviser and review your financial plan and your portfolio.
*While Waste Reduction Week has been celebrated officially in Canada since 2001, one of the first Waste Reduction Week events was held here in Nova Scotia fifteen years ago. You can find out more about reducing waste from Clean Nova Scotia.
Related posts:
Share & Bookmark This Story!