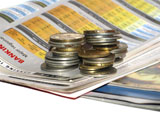 A flow-through share is a special type of common share issued by oil and gas or mineral exploration companies. These shares allow certain tax deductions for qualifying exploration, development and property expenditures to "flow through" from the company to shareholders.
Resource exploration and development programs are generally high risk. In addition, there is a risk that the company's expenditures may not meet the strict requirements of the tax legislation. Tax deductions may not be allowed.
Rights and warrants give the holder the right to buy additional securities from a company at a certain price within a certain period of time. They are usually issued in proportion to the number of shares an investor owns.
Rights allow shareholders to acquire more shares. Some rights are listed on stock exchanges. They may not trade actively. In some cases, rights may have resale restrictions or holders may be subject to restrictions on their ability to exercise the rights to acquire additional shares.
Warrants allow shareholders to acquire other securities of the company. They are typically offered to investors with the sale of another security, like a common share. Rights and warrants have similar risk and return considerations as options.
This has been the ninth post in our Investments at a Glance series. Coming up next: the exciting world of investment funds.
Related posts:
Equities When you buy equity investments, you become a part owner...
Investor Bill of Rights Tomorrow I will begin a series of posts regarding the...
Bonds and Debentures A bond is a loan to a government or company...
Share & Bookmark This Story!